Powerlift Values
Contribution
Offering positive input to business and community.

Significance

Acknowledge the importance of safety, hard work and reaching our objectives.

Progression

Development of our business through diversity and involvement.
Culture
Inspiration and accountability is driven through leadership, training and education creating a culture of self-empowerment by allowing its most valuable asset "its people" to have the strength and belief to make the best decision regarding safety and production.
Inevitably creating foundations to retain talented people.
Occupational Health and Safety Policy
Powerlift provides an accountable and attentive service committed to delivering excellence.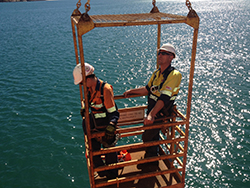 Conforming to Australian and International industry standards, We frequently reveiw our integral HSEQ and personnel management systems to ensure our culture is parallel with our mission.
Powerlift drives "everyday improvement" creating strong foundations to retain talented people that live and promote our vision.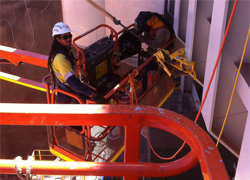 Powerlift recognises its moral and legal responsibility to provide a safe and healthy work environment for employees, contractors, clients and visitors to site. This commitment extends to ensuring that operations do not place the local community at risk of injury, illness or property damage.
Our OHS objective is to ensure the ongoing elimination of incidents and injuries across our business through attitude, leadership and focus.
Responsibilities
Management are committed to:
Integrating OHS into all aspects of Powerlift Industries operations
Compliance with legislative requirements, current industry standards and cooperation with Regulatory bodies as far as is reasonable
Exceeding legislative requirements and aiming for best practice systems of work
Measurable targets to ensure continued improvement reflected in accountability/key performance indicators at all levels.
Provision and maintenance of a work environment that is safe and without risks to health.
Consultation with employees and other parties to improve decision-making on OHS and environmental matters.
Development, implementation and review of written safe work procedures.
Information, instruction, training and supervision to employees, contractors, clients and visitors to ensure safety.
Support and assist employees in effective injury management and rehabilitation.
Review and assessment of OHS policy.
Employees are expected to:
Take reasonable care for the health and safety of themselves and others at work
Co-operate with Powerlift Industries to enable compliance with OHS legal obligations
Participate in consultative arrangements
Assist management to meet OHS targets/key performance indicators
Participate in return to work programs